Lang, lang ists her, dass ich zuletzt wirklich regelmäßig gebloggt habe. Da meine Abschlussarbeit nun aber zu mindestens 90% fertig ist, möchte ich schonmal langsam wieder mit dem Bloggen beginnen. Viel ist in den letzten Monaten makeuptechnisch zugegebenermaßen nicht passiert, ich hab nichtmal den Sommeranfang so richtig mitbekommen. Aber damit ist jetzt hoffentlich Schluss! Um wieder ein bisschen in den Groove zu kommen, zeige ich euch einfach mal die einzigen beiden LE-Produkte, die mich in den letzten Wochen gereizt haben. Eins davon ist für LE-Verhältnisse eigentlich schon uralt, aber was solls ;)
/ It's been some time since I was on a regular blogging scheme. Now that I'm about to hand in my thesis it's time to expect some more posts coming up again, though, so keep your eyes peeled. To start off, I'm gonna show you the only two limited edition products I got in the last few weeks - one is already ancient by German drug store brand standards...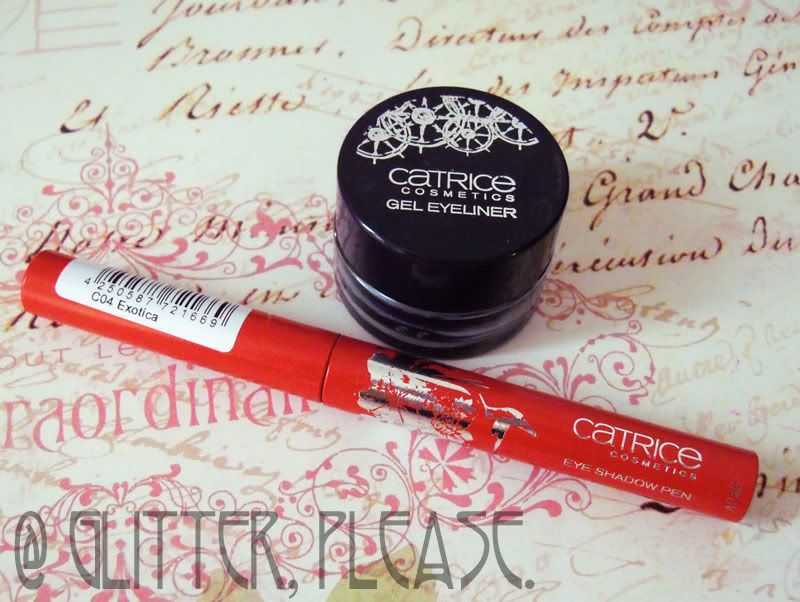 Catrice: 04 Exotica Eyeshadow Pen (Coolibri LE), C01 Nautica Geleyeliner (Cruise Couture LE)
Der Geleyeliner, den mir die liebe
Palan
damals netterweise besorgt hat, weil er hier nicht mehr aufzufinden war, ist tief, tief dunkelblau. So dunkel, dass er, vor allem zu Kontrastfarben, einfach nur wie ein weicheres Schwarz wirkt. Um das Blau so richtig rauszukitzeln, lohnt es sich, ihn mit ähnlich Lidschattentönen zu tragen. Der Liner war am Anfang seeeeehr dünn und schwer zu verarbeiten. Mittlerweile ist er etwas fester geworden und ich komme besser mit ihm zurecht.
Both products are from Catrice. The gel eyeliner (Cruise Couture LE) is such a deep hue of blue it looks more like a soft black next to most other shades. The only way to emphasize the blue tones is to wear it with similar colours.
C01 Nautica Geleyeliner (Cruise Couture LE)
Der Eyeshadow Pen ist aus der Coolibri LE. Die Pens gabs in mehreren schönen Farben, aber nur eine davon war halbwegs matt. Also musste dieser korallfarbene Stift mit. Und Kinder, was sag ich - das Ding ist ein Traum. Toll pigmentiert, weiche Produktabgabe und unschlagbare Haltbarkeit. Ach ja, verblenden lässt er sich auch (und zwar ganz in Ruhe). Tolles Produkt! Schade, dass diese Pens bei der kommenden Sortimentsumstellung nicht ins Standardsortiment gehen, da würde ich wohl mal ordentlich wildern...
Next is the Eyeshadow Pen from the Catrice Cruise Couture LE. It is named 04 Exotica and it is a beautiful, matte coral creme eyeshadow. The pigmentation is insanely dense, it applies like butter and lasts forever despite being easily blendable. Splendid little baby!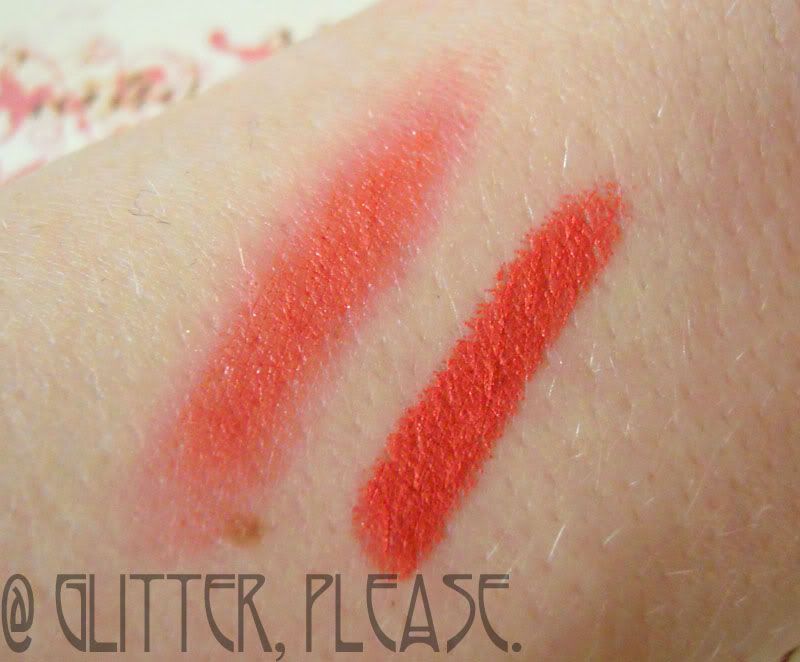 04 Exotica: links verblendet, rechts "pur"
Im verblendeten Swatch links könnt ihr, wenn ihr genau hinseht, ein paar Krumen Glitter erkennen, die auf dem Auge aber quasi unsichtbar sind. Rechts seht ihr den direkten Auftrag aus dem Stift ohne viel Druck.
In the blended swatch on the left you can see that it has tiny pecks of glitter, which turn invisible on the eye, though. The right swatch has been applied straigt from the tube without any pressure.
Ihr Lieben, das wars fürs Erste! Danke, dass ihr mir trotz dieser langen Durststrecke treu geblieben seid und hoffentlich bis bald!