Weiter geht es diesmal mit vier Lacken von Catrice. Untergründe sind der weiße Stempellack von essence und
Eternal
von p2. Das Stempelmotiv ist von der Konad m3 Schablone. Wenn in meinen hier gezeigten Teststempeleien kleinen Lücken sind, liegt dies nicht an den Lacken, sondern an der Folie, auf der ich stemple.
Die heutigen Opfer: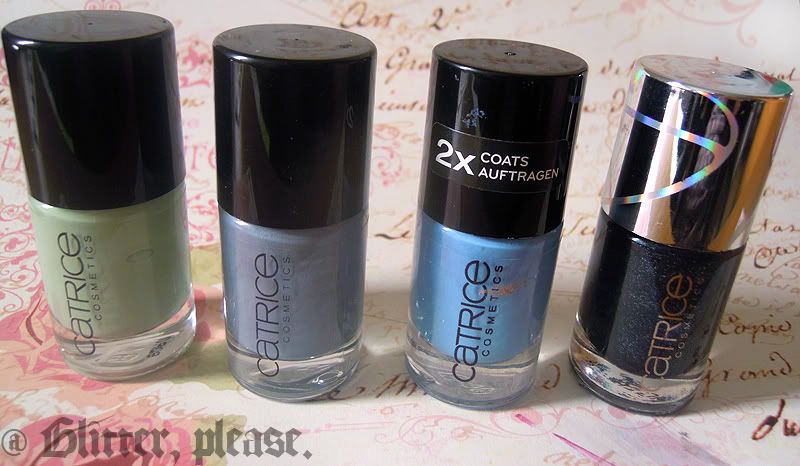 240 Sold Out Forever*, 280 London's Weather Forecast*, 530 Up in the Air*, C04 Moonlight Express*
Sold Out Forever
* stempelt als blasses Jadegrün und ist auch auf schwarz noch zu erkennen, obwohl die Farbe auf dunklem Grund recht undefinierbar aussieht.
London's Weather Forecast
* stempelt prima auf hellen Farben, auf dunklen ist er noch gut erkennbar.
Up in the Air
* wirkt auf beiden Tönen eher blass und nicht so gut erkennbar. Der am wenigsten stempeltaugliche Lack für heute.
Moonlight Express
* (
Out of Space
LE) stempelt gut sichtbar auf weiß, ist auf schwarz jedoch unsichtbar. Dass man ihn wenigstens stempeln kann, erleichtert mich schon etwas. Nach dem ersten Tragen hat er meine Nägel nämlich trotz Unterlack böse verfärbt und ich gucke dem Schlamassel nun Woche für Woche beim Rauswachsen zu...
*ausgelistet
Die meisten Catricelacke sind für mich eher überschaubares Mittelmaß, ich bin daher von ihrer Stempeltauglichkeit überrascht und auch sehr angetan. Eventuell wird dies dazu führen, dass ich dem Catriceregal noch einmal einen Besuch abstatte ;)
Übrigens will mich Tinypic derzeit nicht in meinen Account lassen, also nutze ich gezwungenermaßen erstmal wieder meinen alten Photobucketaccount *grummel*